Eight-year-old Harper Joye couldn't believe what she was seeing at the College of Charleston baseball camp on June 25. Among the usual group of male coaches and players doing the supervising was an energetic young woman running multiple drills.
"What do you do? Do you coach softball?" asked little Harper, the baseball-loving daughter of USC Salkehatchie head coach Jeremy Joye.
Sam Gjormand sensed the seriousness in Harper's pointed curiosity. It was hard to tell who loved Gjormand's response more, the girl camper surrounded by boys or the College of Charleston's barrier-busting, 23-year-old director of baseball operations.
"No," Gjormand said. "I coach baseball."
Harper Joye immediately turned and shouted out from the field.
"Daddy! Daddy!" Harper said.
She grabbed full attention of her beaming father watching from the stands at Patriots Point in Mount Pleasant. 
"Daddy! She coaches baseball!"
That's right, kid. Gjormand (pronounced JORE-mund), since Chad Holbrook hired her almost straight out of James Madison University in July of 2021, has juggled the Swiss Army knife role her job title suggests: Administrative stuff, working at every practice, in the dugout during games, camp coordinating.
But what really sets Gjormand apart, at an exciting time when women are making gains in college and professional baseball, is recruiting duty. She's been recently designated as one of three "countable coaches" the NCAA allows to recruit on the road (Holbrook and pitching coach Will Dorton are the others).
Gjormand starts recruiting for the Cougars in earnest with a trip to the prestigious Perfect Game travel ball showcase outside Atlanta the week of July 10.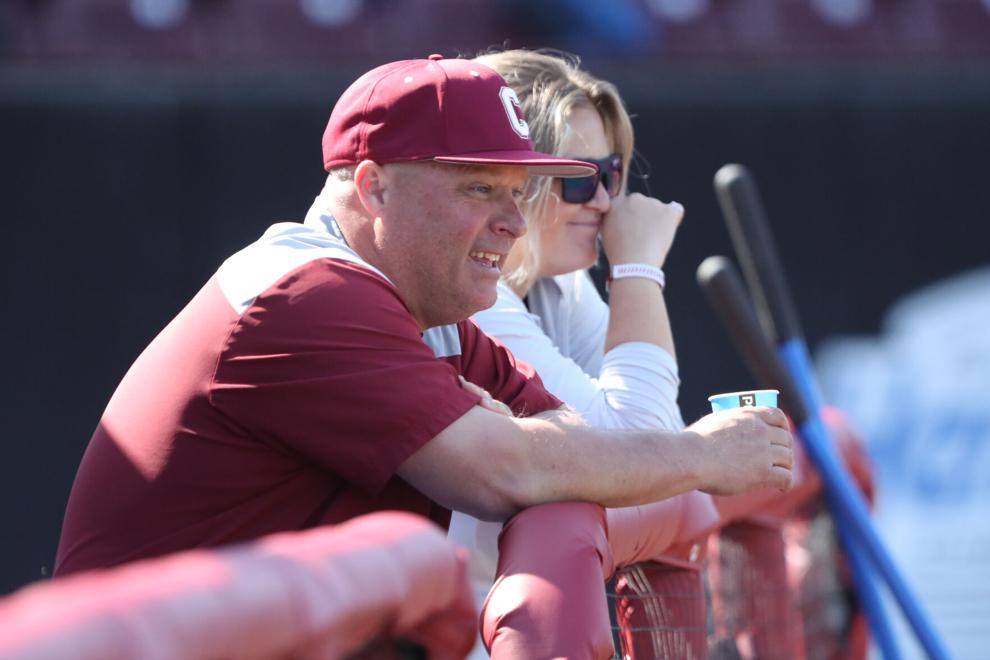 "Honestly, this is really cool," Gjormand said. "I didn't start thinking I could do this until I was in high school and someone said, 'Do you want to make baseball a career?' and I said, 'Can I?'"
Absolutely. The Miami Marlins' Kim Ng is Major League Baseball's first female general manager. Rachel Balkovec is manager of the New York Yankees' Low-A minor league team in Tampa. Women are lightly sprinkled throughout college baseball staffs.
But Gjormand on the recruiting trail is next-level within the college game.
And yet as perfectly logical as going with your No. 1 starting pitcher on Friday.
"When you send someone out to recruit, you're trusting that person with your career and your livelihood," said Holbrook, who just completed his fifth season as College of Charleston head coach after five years at South Carolina. "I don't even think twice about it. Sam has all the traits of a good recruiter. And she knows exactly what we're looking for."
Gjormand didn't apply for her College of Charleston job; Holbrook recruited his new recruiter. He noticed during games against Colonial Athletic Association rival James Madison a versatile dynamo serving as student manager.
"I watched her take charge in pre-game and I watched her during the game," Holbrook said. "I saw how she communicated with players. I knew I wanted to hire her. And not for publicity, but to make our program better."
Gjormand got the Charleston job offer last summer while interning as an assistant general manager with the Wareham Gatemen in the Cape Cod League, an elite college summer circuit.
"I knew she was going to be knowledgeable about the game," Holbrook said, "but she has surpassed my expectations….


News Read More: College of Charleston baseball's Sam Gjormand, 'she will be a star'