Advancements in education technology, or EdTech, come from changes of approach in the wake of shortcomings. Innovative educational technology can adapt existing tools or create new ones to help people navigate learning obstacles.
King of the Curve (KOTC) is a disruptive EdTech startup with its sights set on helping to ease the looming doctor shortage. KOTC combines game and social strategies to assist science students in scoring better on medical school entrance exams and related challenges. The company is also developing productivity-style apps to help health care workers in the field manage the challenges of dispensing medical treatments better.
Heath Rutledge-Jukes founded the company while eyeing a career in psychology before focusing on becoming a surgeon. He is now a medical student at Washington University School of Medicine.
Before entering medical school, though, he took an unanticipated detour to put his science skills to use as a software developer. Rutledge-Jukes transitioned from designing instructional strategies for people with dyslexia to creating a series of examination preparation apps for medical school applicants.
KOTC does not mimic other self-study products and is not based on typical learning app thinking.
"People have their own individual learning paths. That is what education should be based on. It is not just a cookie-cutter template for everyone," Rutledge-Jukes told TechNewsWorld.
App Adapts To User Performance
That philosophy is evident in his educational pathway. As a psychology major, Rutledge-Jukes researched different learning methods. His research primarily used video games to learn legitimate skills such as eye-hand coordination, strategizing, critical thinking, and much more.
After graduating college, he designed tools for children with dyslexia to learn. That endeavor involved creating tactile instruments for young students to comprehend and retain information better.
Unlike other learning tools, KOTC does not become routine or less useful to users due to over-familiarity. Instead, the app adapts to a user's performance so they can improve, not just memorize pre-set answers.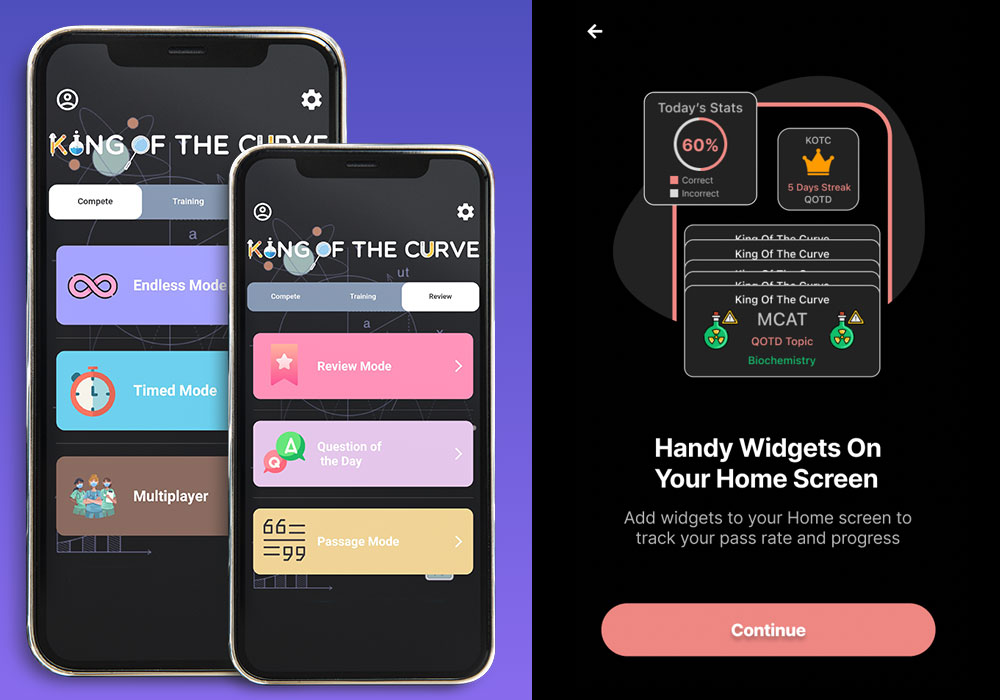 The King of the Curve app uses game-based elements to help students study for medical school entrance exams. Its features include Adaptive Question Bank, Review Mode, Endless Mode, Timed Mode, and Multiplayer Mode. (Images Courtesy of King of the Curve)
---
Educational apps can linger without updates for extended periods. Or they rely on rote learning tactics, which limit progress to the confines of teaching to the test. "That makes users more desperate to try something else," Rutledge-Jukes noted.
Building a Better Mousetrap
Rutledge-Jukes started KOTC in 2020 with a focus on preparing students for the medical school entrance test known as the Medical College Admission Test or MCAT. Test prep for getting into medical schools was a logical starting point for his company's first educational app. The developer was already well-versed in its content.
"That is how we started. That was a seed for putting this app together to help people qualify for the various tests," he said.
KOTC's mission, as its founder sees it, is simple: transform students' stress into success. That way, the student of today becomes the professional of tomorrow.
Solving a National Medical Crisis
In its own way, KOTC's unique strategy for prepping students for the MCAT is helping to get more applicants accepted. Training competent physicians can take as long as 10 years, according to the 2022 AMA President Gerald E. Harmon, M.D., in a Leadership Viewpoints column.
The Association of American Medical Colleges (AAMC) projected the U.S. faces a shortage of 37,800 physicians — and 124,000 within 12 years — in its report released in June 2021. In the wake of this pending physician shortage, KOTC's gamified techniques go a long way to preventing "Game Over" for doctor hopefuls.
Rutledge-Jukes stated that 60% of the people who apply to medical school are not accepted. Applicants are three times more likely to attend medical school if they score above 510 on the MCAT, and it is the only part of the med school application that is standardized.
KOTC's success rate in helping applicants score higher is impressive. The MCAT's score range for the four-part written exam is from 472 to 528. Scores for the four sections are combined…


News Read More: EdTech Developer's Study Game Approach Aces Med School Testing Curve