By Andy Demetra | Voice of the Yellow Jackets
Josh Pastner arrived at Georgia Tech a man-to-man absolutist.  In seven years as an assistant at Memphis and Arizona, and seven years as Memphis' head coach, his teams played strictly, staunchly man-to-man.
Fast forward another seven years, and Pastner's Georgia Tech teams are now known for their disorienting mix of zone defenses, full of differing fronts and unorthodox slides and rotations.  He and his staff installed the system before their first season in 2016-17, believing it could make up a talent gap.  The Yellow Jackets finished the year ranked sixth in the nation in defensive efficiency, and Pastner hasn't looked back.
The pendulum hasn't swung entirely in the other direction; Tech still plays plenty of man-to-man depending on the matchup.  But coaches now reach out to Pastner, by text and e-mail, at tournaments and camps, asking him to teach his system.  They've tried in vain to figure out its Byzantine rules on their own, to no avail.
Good luck with that.  Pardon the pun, but Pastner has kept it a closely guarded secret.
"This summer, I had four people come up to me and tell me you're like the new John Chaney of zones," he said on his radio show last month, referring to the legendary former Temple coach's 2-3 matchup zone.
In spite of its 8-10 start, Pastner still feels buoyant about his team's defense.  Offense, as he's said often, remains the issue.  "We've got to keep grinding at it," Pastner said at his press conference Friday.  And now, Tech will search for scoring against the team most famous, most synonymous, most notorious for its zone defense, the Syracuse Orange (12-7, 5-3 ACC), who come to McCamish Pavilion on Saturday.
Enjoy the top reads from my chart as the Jackets try to wrap up a three-game homestand with a win (12 p.m. ET, Georgia Tech Sports Network from Legends Sports):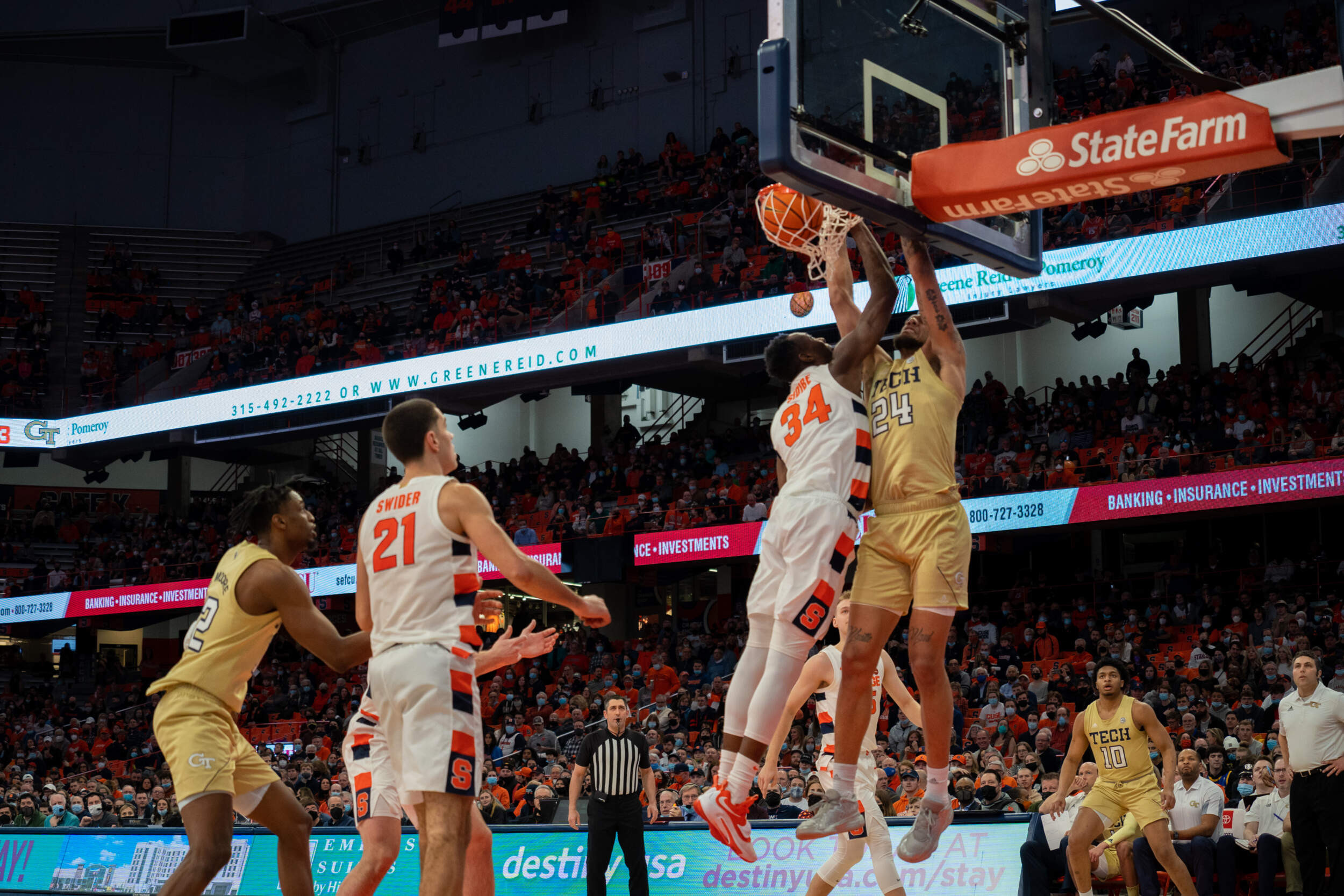 Rodney Howard enjoyed a career day last season against the Orange with 19 points and 10 rebounds. (photo by Danny Karnik)
The most striking change in Syracuse's offense?  The Orange rank second in the ACC in three-point percentage in conference play (38.3 pct.), but they're far less reliant on the three than years past:
| | | |
| --- | --- | --- |
| Year | 3PA/FGA | NCAA Rank |
| 2022-23 | 29.10% | #339 |
| 2021-22 | 39.20% | #136 |
| 2020-21 | 40.30% | #95 |
| 2019-20 | 42.30% | #68 |
| 2018-19 | 43.20% | #68 |
The Orange still feature guard Joe Girard III (team-high 16.9 ppg), who ranks fifth in school history in career three-pointers and has moved to shooting guard this year.  The 6-1 senior flies around curls, misdirections and pindowns and has a lightning-quick release. He'll also be looking to regain his accuracy after shooting just 2 of 13 from three-point range over the last two games.  Six-foot-7 freshman Chris Bell and 6-6 freshman Justin Taylor have also emerged as three-point threats.  But freshman guard Judah Mintz, the Orange's second leading scorer (14.9 ppg), profiles more as a driver with pace.  Six-foot-11 center Jesse Edwards (13.9 ppg, 11.0 rpg), who had a career-high 25 points against Miami Monday, gives the Orange the soft-handed lob threat they've lacked in recent seasons.  Even Girard will post up defenders deep on the perimeter, looking to back down and hit pull-ups.
According to ShotQuality, Syracuse ranks sixth in the nation in the percentage of its shots that come off midrange jumpers.  The Jackets will need to keep their "stick hand" high, have disciplined close-outs, and not get broken down on straight-line drives like they did at times versus Pitt and N.C. State.  Look for Mintz to come out with focus after scoring a season-low three points (with five turnovers) against Miami.  Can Tech also win the "first chance" defensive rebounds, which could trigger its transition offense?
*****
They didn't get the win, but Georgia Tech did neutralize two areas of strength from N.C. State.
The Wolfpack came in ranked ninth nationally in turnover rate.  Their 21.2-percent rate against the Jackets was their second highest of the season.
N.C. State also led the ACC in defensive rebounding percentage.  Georgia Tech outscored the Wolfpack 17-4 in second-chance points and finished with an offensive rebound percentage of 36.7, the second highest percentage N.C. State has allowed all year.
*****
Syracuse reserve center Mounir Hima hails from the west African county of Niger.  His home country's national basketball team is nicknamed the Giraffes.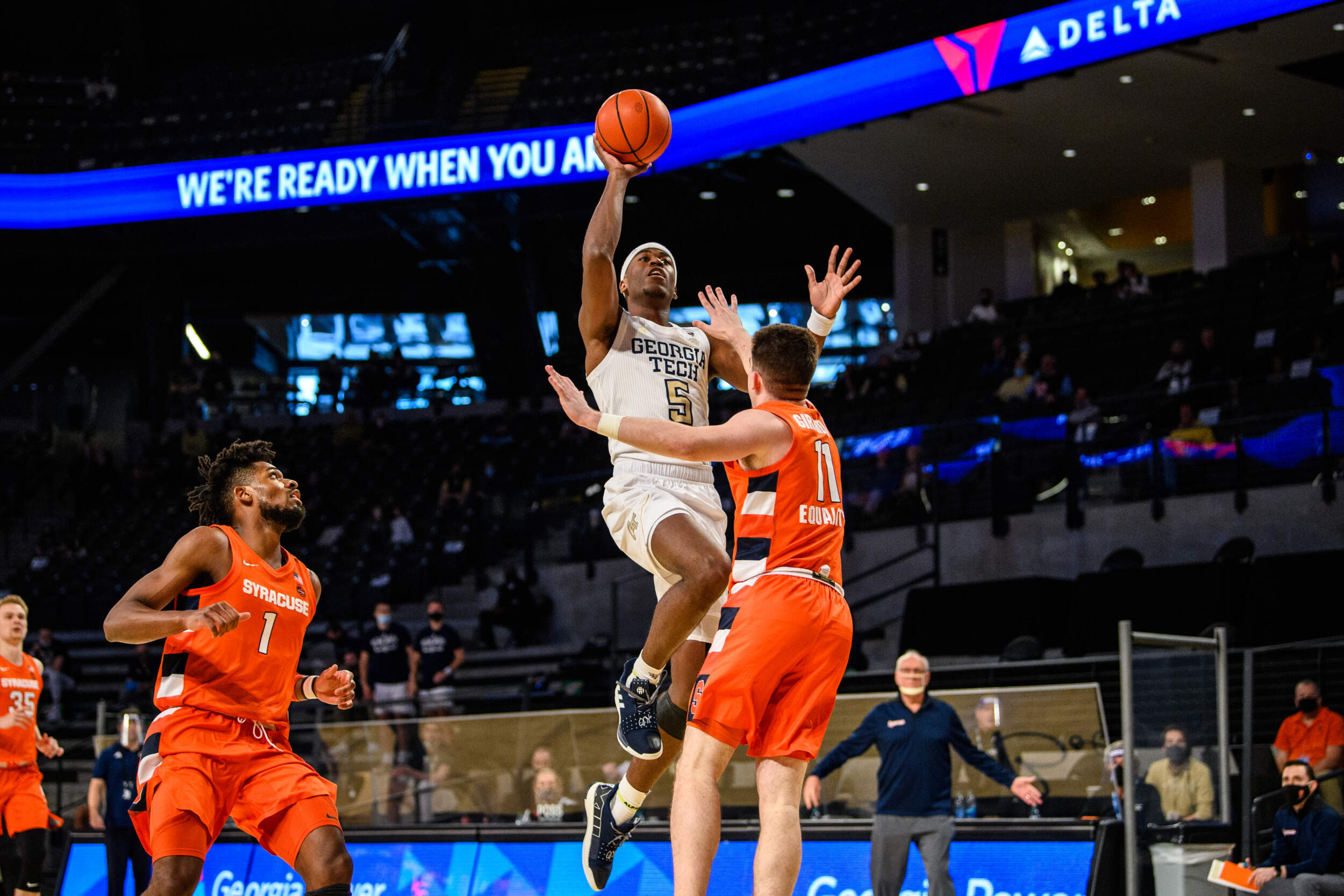 Moses Wright averaged 32 points and 13…


News Read More: Inside The Chart: Georgia Tech vs. Syracuse