By DAVID DUPONT
BG Independent News
Superintendent Francis Scruci said that he will not ask the Board of Education to alter its policies forbidding school personnel from carrying weapons in schools.
Again, he said, the nation has confronted a tragedy when a gunman murdered 19 students and two teachers in a Texas school.
Such incidents always give rise to a host of questions.  Are stricter gun laws needed? Is it a mental health problem? Or should school personnel be armed?
"We're left trying to make sense of this," Scruci said.
Earlier this month Gov, Mike DeWine signed a law that gives school districts the authority to allow school personnel to carry guns with "limited training." Scruci said: "I cannot speak for the members of this board, but I'm stating that my position is I cannot and will not recommend to this board that arming our administrators and staff is the right thing to do."
All schools are within two minutes of the police, and school resource officers are often in the building. Scruci noted that Mayor Mike Aspacher stated at a recent city council meeting that officers would immediately enter the building to remove any threat.
"We're as safe as possible," he said. "With the existing policies in place, we wouldn't need to change anything."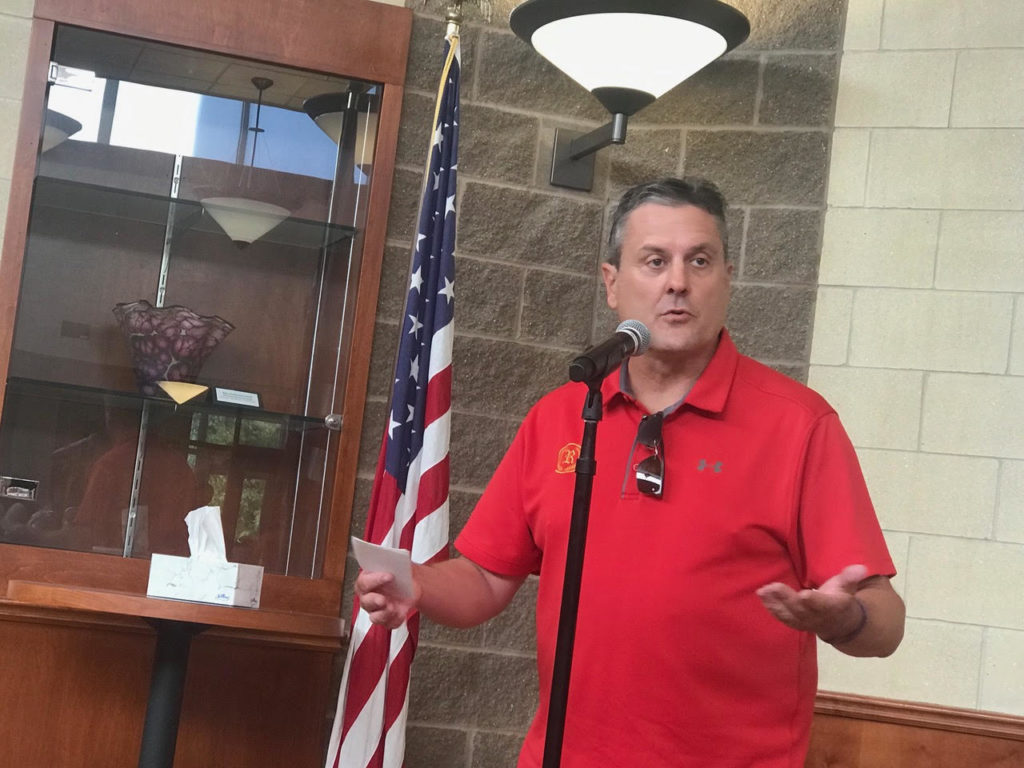 During the second public comment period, parent Steve Bateson referred to Scruci's statement in his criticism of the board for not being concerned with the safety of students in another regard. Bateson said he has been waiting for the district to implement a policy in response to a strength and conditioning coach hired as a third party contractor being charged with having inappropriate contact with a student.
Zachary Gibson, 30, was indicted last week by a Wood County Grand Jury on two counts of sexual battery, two counts of illegal use of minor or impaired person in nudity-oriented material or performance, and attempted illegal use of minor or impaired person in nudity-oriented material or performance.
Gibson, who was hired through Fastrak Performance of Perrysburg, was fired April 4 after the allegations came to light.
Bateson criticized Scruci for saying at a meeting with parents at that time that he believed in giving people a second chance. Gibson,30,  had been convicted 12 years ago in Hardin County of a misdemeanor charge of disseminating matter harmful to juveniles after he was found exchanging text messages with a 14 year old.
This is not the kind of serious charge that should be overlooked, Bateson said. That he had "direct involvement with kids is totally unacceptable."
The school district has a policy not requiring background checks for third party contracts. That may make sense for contractors doing roofing or plumping work, but not for someone with direct contact with students.
"As a parent I'm disgusted by it," Bateson said.
After the meeting, Board President Jill Carr said that the board is not ignoring this but that there is more to be done before they can address the issue.
Scruci said that he was not aware that Gibson did not have a background check. Gibson had worked with several students previous to his employment with Bowling Green, Scruci said.
Athletic Director Michele Wolf said she was unaware that Fastrak did not do background checks. The company did work with several other area school districts. 




News Read More: Student security in spotlight at school board meeting – BG Independent News