They include one of the first Indigenous women to be given the prestigious scholarship.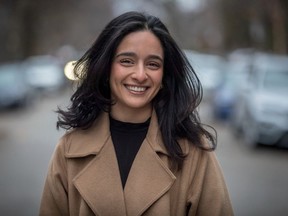 Article content
The wildest dreams of not one, not two, but three students from Quebec came true recently when they found out they had been awarded one of the most prestigious scholarships in the world.
Article content
After completing undergraduate studies in Toronto, Ottawa and Montreal respectively, Iakoiehwahtha Patton, Rayene Bouzitoun and Clovis Lachance will head to the University of Oxford — as Rhodes Scholars.
Article content
"That moment is pretty vivid in my memory still," Bouzitoun said of when she got the call.
The selection committee told her it had one last question before moving forward with the process, Bouzitoun said: If they were to offer her the scholarship, would she accept?
"And I lost my mind," Bouzitoun said. "I couldn't believe it."
The Rhodes Scholarship is a fully funded opportunity for postgraduate students to study at Oxford, in England. Eleven were handed out in Canada this year, including two in Quebec, to Bouzitoun and Lachance, and two in Ontario, one of which was awarded to Patton. (Students can apply in their province of residence or the one in which they are studying.)
Article content
"The scholarships call for and recognize a set of timeless virtues — intellectual excellence, strength of character, energy to strive, commitment to serve and instinct to lead," Richard Pan, the Canadian secretary of the Rhodes Trust and the chair for the Rhodes Scholarships in Canada, said in a statement. "The scholarship winners directly reflect the diversity of our communities and the best of Canada."
Patton is completing a degree in art history, anthropology and Renaissance studies at the University of Toronto, where she is the president of the History of Art Students' Association and participates in various Indigenous advisory committees, among other activities. A member of the Kanien'kehá:ka First Nation from Kahnawake, Patton is among the first Indigenous women to win the Rhodes Scholarship.
Article content
"I feel a profound responsibility in everything that I do," said Patton. "Part of that responsibility is because I hold the title of 'first' in a lot of the things I do. It's unintentional. But, coupled with the actual content of my work, I know how important it is that I occupy these spaces. I didn't have Indigenous scholars as role models until I entered university, and even then, I didn't know of any in my field until the last year. So I am acutely aware of the weight of my titles, like being a Rhodes Scholar and everything I will do after this. I don't take it lightly."
Patton plans to continue pursuing art history at Oxford — an easy choice, given her love of the subject.
"My Renaissance minor gave me a time frame and movement to focus on: the early modern, from roughly the 15th century to the 17th," she said. "My anthropology degree gave me a framework to approach my studies. I've taken many religion, gender, post-colonial, global capitalism and theory classes that have given me the tools to analyze art and its cultural and historical contexts."


News Read More: Three students from Quebec hitting the road to Oxford as Rhodes Scholars